Attract up to 50% more customers through video ads
Video marketing is now an easy, affordable option thanks to our new automated video service
For the last several years, digital marketers have told us that "Video Is Coming" or "Video Is Here." But who could afford it? High-quality, professional video content is often too expensive to be shot in-house, and outsourcing it to skilled talent comes at a pretty penny, too.
But what if we were to tell you that you can afford high-quality video marketing?
Thanks to groundbreaking artificial-intelligence technology, you can implement product video marketing on your website to gain more leads and user engagement, as well as build your brand's trustworthiness. We'll explain how you can implement automatic video solutions to your website for a fraction of the cost. But first, let's look at the numbers: they show product video marketing can help businesses like yours succeed.
The numbers prove it: Consumers crave video
Thanks to the increase in bandwidth and processing power of mobile devices, users watch videos wherever they are. YouTube videos, streaming services, social-media advertisements… It's unavoidable: the Internet is now ruled by video content. When it comes to digital media, there's nothing more powerful than the moving image. With so many things competing for your customer's attention, providing them the very thing they crave will help them come to you. Video marketing is effective in the rapidly changing ecommerce landscape to increase leads and improve brand reputation. Not convinced? These numbers will change your mind.
Product videos have been proven to influence consumers to buy a product. Over 75% of auto shoppers say online video influenced their shopping habits or purchases, and 96% of consumers find videos helpful when making online purchase decisions.
Video marketing helps build business branding. A solid 58% of consumers consider brands with video content to be more trustworthy and 71% of consumers say videos leave a positive impression of a company. In addition, 77% of consumers think companies with video content are more engaged with customers.
The improvement in branding makes sense when you consider the positive effect video content has on customers. Consider that 83% of video marketers say video has helped them generate leads and a whopping 95% of video marketers said they felt they had increased the customer's understanding of their product or service using video. And 88% of video marketers reported that video gives them a positive ROI.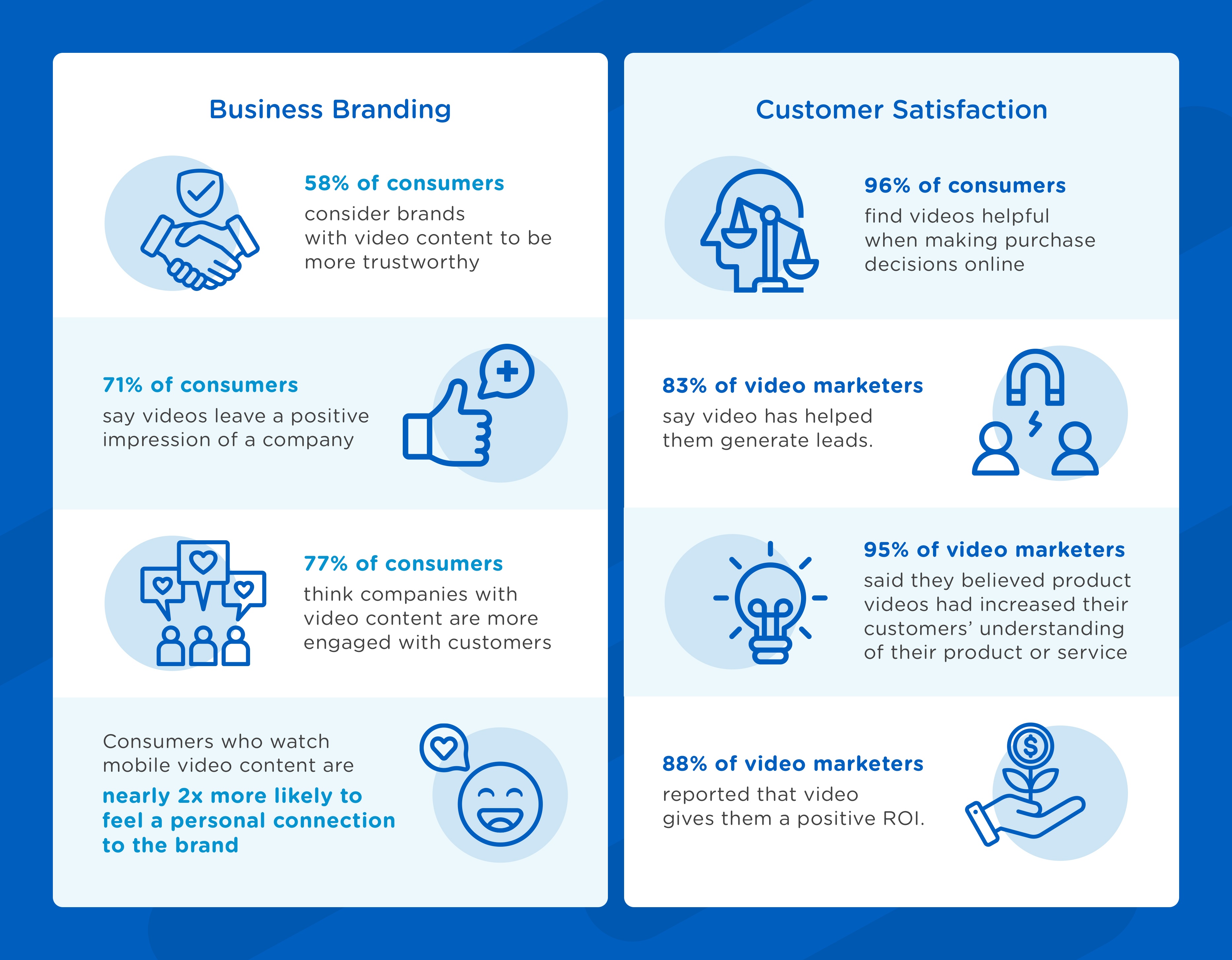 But you might still be wondering: Why should you contribute to a statistic? What's in it for you?
Boost leads, customer engagement, and your brand's reputation
As a dealership, building your ecommerce success through digital marketing depends on one thing: how much do you stand out from your competition? The answer is more unique, reliable content.
Video marketing is unique because most dealerships haven't yet made the jump  to invest in it. So you will stand out from your competition simply by having video. You now know video helps brand your dealership as a reliable, trustworthy, digitally savvy company – one that understands how to effectively communicate with customers, which makes your dealership more attractive than others. 
Remember that auto shoppers are well-researched consumers. The watch time of "test-drive" videos went up 65% on YouTube in two years. Car buyers are seeking video content for the vehicle(s) they want to buy. Unlike some other products, cars are coveted for their physical appearance. Customers have personal preferences for the look and feel of their desired car. Video provides the closest thing to experiencing its look and feel before a customer sees it in person. By giving customers what they want, you'll get more user engagement on your website and boost online leads and sales conversion. 
So how do you add video to your vehicle pages? With our automated video service, video is easy and automatic.
EDealer can help you with your video marketing
We can help you market your vehicles through the power of video and artificial-intelligence technology. This AI solution enables you to create consistently high-quality videos for every car in your inventory within minutes. You don't have to film anything. You don't have to host anything. You don't have to worry about bandwidth. It's all taken care of! 
Here's how it works: We use your submitted inventory data feed to identify still images and key product details from each unit. The AI identifies the key properties of each image, like shot angles, interior features, and exterior highlights. It enhances the backgrounds of the images, adds special effects and shadows, and adds an overlay communicating key product details and your dealership branding.
These videos are hosted on a cloud computing platform. The platform takes 10 minutes to post your videos on your website for your visitors to enjoy. Any time you update a vehicle's information – such as a price or a promotion – the data feed automatically updates the video. So your video content remains up to date with no extra work from you.
Based on a 2022 study with a sample size of 10,000 cars sold in Q1, cars advertised online through our automated video service sold 3-5 days faster than those without. The study proved these videos attract over 50% more potential customers, which vastly boosts your chances of a sale. This helps private sellers and dealerships move cars more quickly to boost profitability.
Interested in adding automated video to your dealership website? Contact us today and find out more about how this add-on digital solution can help grow your business.
References:
Auto Video Shopping Statistics – Think With Google
The Power of Video for Small Business – Animoto
The Ultimate List of Marketing Statistics for 2022 – HubSpot
The Phyron Effect: State-Of-The-Art AI Videos Proven To Drive 50% More Potential Customers to Car Ads – Mentors